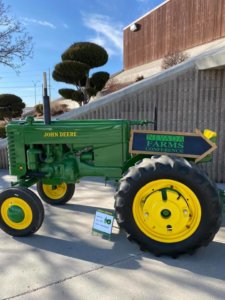 Farmers Growing Together was the theme of this years Nevada Farms Conference in Fallon, Nevada. The annual conference took place February 20th through the 22nd to bring together producers and the community to learn about sustainability and economic growth.
The theme of this year's conference, Farmers Growing Together could be seen through all events at the meeting from the pre-conference tours to the night out activity featuring local spirts. It was a great way for farmers both locally and a far to learn more through breakout sessions.
A variety of breakout sessions were held for people to enjoy from: Nevada soil health, Agri-tourism, lean farming, organics 101, poultry processing & niche markets, financing and tax planning for farmers, UNR Research update, farm to glass, lean produce, technology and agriculture, animals for met and fiber, new crops in Nevada & native seed production, social media & marketing, the ABC's of hemp production and hoop houses big and small.
One of the big highlights from this year's conference was keynote speaker Ben Hartman. Hartman was named one of fifty emerging green leaders in the United States by Grist Magazine and published a companion guide to The Lean Farm titled The Lean Farm Guide to Growing Vegetables.
Hartman spoke on the Lean system. A Lean system was derived from Toyota, which focuses on five key principals; Specify Value (What do your customers value?), Identify the Value Stream (Any processes and materials necessary to deliver a product to customers make up value streams), Establish Flow (Once value-creating steps have been identified, they should occur in sequence), Pull Value, and Strive for Perfection.
The Lean system helped Hartman become successful in his small farm and he believes taking the Lean approach will make others become successful as well.
Each breakout session featured different aspects to farming that attendees could use to become a more well-rounded successful farm both big and small.
This year's Nevada Farms Conference had a great attendance and attendees really enjoyed learning new and initiative ways to farm and become successful in all aspects of their business.